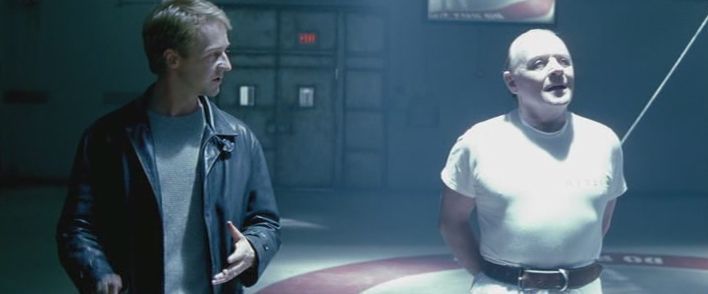 Red Dragon is one of the most entertaining movies I had watched during my graduation days. This is a serial killer themed movie having excellent actors like Anthony Hopkins, Edward Norton and Ralph Fiennes in the cast. If you like thrillers this movie is bound to keep you glued till the end. Everything works – the acting, the dialogues, the background music and the cinematography. Perhaps the best performance ever by Anthony Hopkins comparable only to that in The Elephant Man directed by David Lynch. I re-watched this movie after 8 years in Blu-ray and it still kept me tied to my chair throughout the movie.
Favourite character: Dr. Hannibal Lecter (played by Anthony Hopkins)
Favourite quotes:
"Before me, you rightly tremble. But, fear is not what you owe me. You owe me awe." – Francis Dolarhyde
"You must be healed by now… on the outside at least, I hope you're not too ugly. What a collection of scars you have. Never forget who gave you the best of them, and be grateful, our scars have the power to remind us that the past was real. We live in a primitive time, don't we, Will? Neither savage nor wise. Half measures of the curse of it, any rational society will either kill me or put me to some use." – Dr. Hannibal Lecter
"You will not persuade me with appeals to my intellectual vanity." – Dr. Hannibal Lecter
Will Graham: You had… disadvantages.
Hannibal Lecter: What disadvantages?
Will Graham: You're insane.