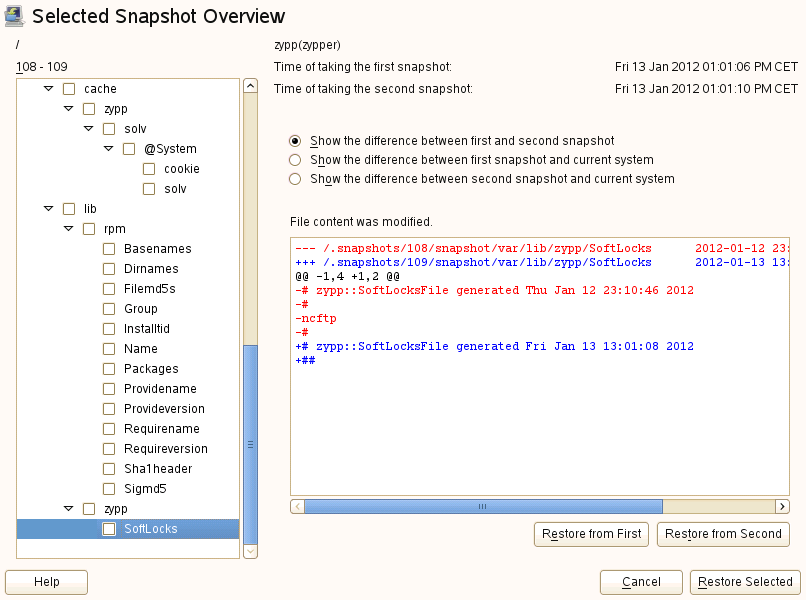 Speaking of filesystem snapshots, Linux already has utilities like Timeshift in its arsenal. However, we couldn't ignore Snapper, a fresh and powerful snapshot manager from SUSE. Non-root users can also use Snapper to view older versions of files and revert changes (if they have permission). Snapper is available for multiple distributions.
Features
Manually create snapshots
Automatically create snapshots, e.g. with YaST and zypp
Automatically create timeline of snapshots
Show and revert changes between snapshots
Works with btrfs, ext4 and thin-provisioned LVM volumes
Supports Access Control Lists and Extended Attributes
Automatic cleanup of old snapshots
Command line interface
D-Bus interface
PAM module to create snapshots during login and logout
Perhaps the best thing about Snapper is its simplicity. It can be used by newbies and experts alike. The underlying filesystem is completely abstracted and only the file tree is shown.
Installation
Snapper is available for a number of Linux distros. For Ubuntu, packages supporting 14.04 to 15.04 are available at the time fo writing. To install on 14.04, run:
$ wget http://download.opensuse.org/repositories/filesystems:snapper/xUbuntu_14.04/Release.key
$ sudo apt-key add - < Release.key
$ sudo sh -c "echo 'deb http://download.opensuse.org/repositories/filesystems:/snapper/xUbuntu_14.04/ /' >> /etc/apt/sources.list.d/snapper.list"
$ sudo apt-get update
$ sudo apt-get install snapper
To install on other versions of Ubuntu, replace 14.04 with the correct version number.
Rating
Features: 4.5/5
Usability: 5/5
Webpage: Snapper