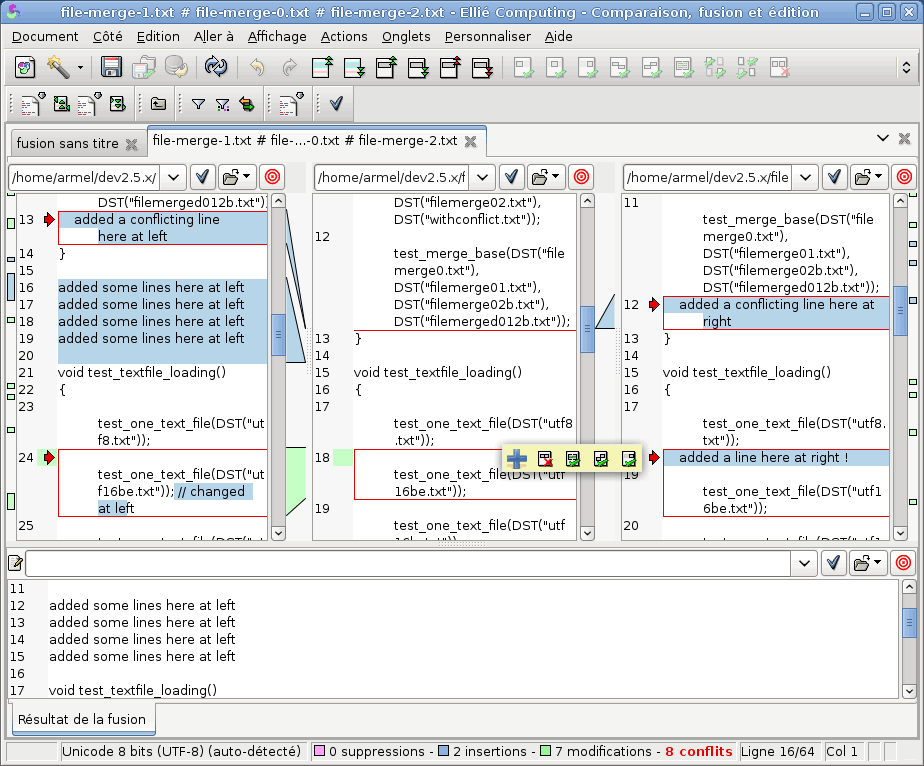 It's rare that we review and endorse commercial software on TuxDiary. However, ECMerge from Ellié Computing is a powerful utility with a difference. Historically I had been using Diffuse a long time. I came across ECMerge searching for a graphical binary comparison utility for my development. In addition to binaries, it supports many other file formats and is a perfect companion for individual developers, non-IT professionals and large teams of developers.
Features
Compare and merge text, binary, XML (with enhanced presentation), latest versions of Microsoft Word, OpenOffice Text and RTF documents
Free converters for compressed archives, PDFs, images, deb and RPM package formats using third-party utilities which support these formats
Fast multi-threaded 2-way and 3-way merge, unlimited undo-redo if needed
Supports files and directories, GUI and CLI modes. File manager menu integration.
Over the ether comparison: multi-connections FTP/FTPS, SFTP and SCC comparisons and parallel updates
Secure automatic merge
Navigate through differences within a line
Ignore unimportant ranges of data (long runs of zeroes for example)
Generate, apply, test patches with smart view mode without any risk
A highly productive software: scriptable with ECMAScript, with dynamic toolbars and shortcuts for macros
Version control support: CVS, SubVersion, Perforce, Visual SourceSafe, Mercurial, Darcs, Git, Bazaar. Checkout proposed for Code Co-op.
Reporting: export as patch, XML, HTML, Text, CSV
Multi-platform. Supports Linux, Windows, Mac and Solaris.
Support for many international languages
ECMerge is available only for x86 architecture at the time of writing. However, it is under active development and we would expect a x86_64 version in near future.
Commercial strategy
ECMerge offers unlimited technical support and updates for one year per license. A 30-day fully functional evaluation version is available in the Downloads section to try the tool before buying it. The utility has Pro and Standard editions and can be bought for multiple platforms or a single platform with the cost ranging within 30$ to 60$ (plus addition VAT applicable within EU). There is a 30-day refund policy in case a customer is not satisfied.
Ellié Computing offers free licenses or up to 50% discount for contributors to translations, add-ons, feedbacks, alpha and beta product testers.
Under its Open Source Program, the organization offers free licenses to developers with significant contributions to open source projects. It contributed to lsstack64, one of my open source projects, the same way.
Webpage: ECMerge