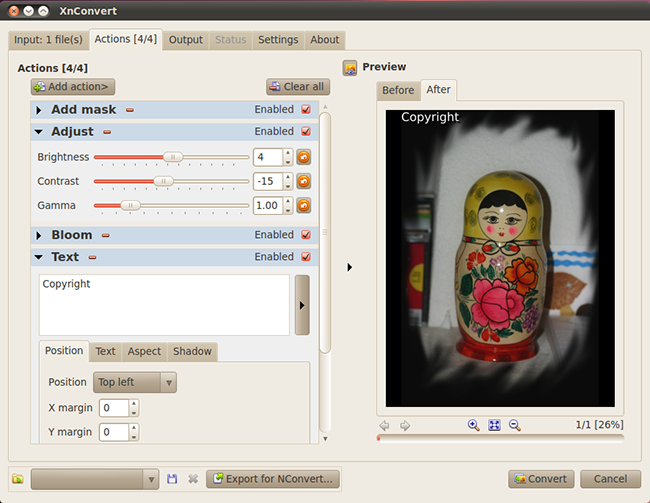 Want to resize the snaps from your latest trip and share with friends? XnConvert can save your time through powerful batch conversion features. Though it's not open source, the utility is free for personal, educational and non-profit use.
Features
Easy to use interface with drag and drop
Supports ~500 input file formats and ~70 output formats
Combine over 80 actions in 4 categories


Image actions

: add mask, automatic crop, canvas resize, color depth, edit or clean metadata, crop, extract channel, ICC convert, IPTC-IIM/XMP, mirror, replace color, resize, rotate, adjust DPI, text, vignetting, and watermark


Map actions

: adjust, align histogram, automatic contrast, automatic levels, colour balance, conbright, equalize, exposure, gammasat, HLS, levels, logarithmic lut, negative, normalize, normalize ex, posterize, saturation, sepia, shadow-highlight, solarize, swap component, and temperature


Filter actions

: average, blur, edge, detect, emboss, emboss more, enhance detail, enhance edges, enhance focus, focus restoration, gaussian blur, maximum, median box, median cross, minimum, reduce noise, sharpen, and soften


Other actions

: add noise, band, bloom, border, border 3D, crystallize, de-interlace, fantasy, half tone, lens, mosaic, oil painting, oil painting 2, old camera, photo spread, pointillize, retro, shear, slice, spread, swirl, symmetry, tile, and waves
Set file renaming rules (e.g. change case), enable XnConvert to keep the folder structure and metadata, and others.
Use scripts for repetition, export to NConvert for cmdline processing
Multi-platform. Supports Linux, Windows and Mac.
Installation
Note that XnView includes XnConvert and if you are going to use batch conversions heavil you should install that. The default list in XnConvert shows thumbnails with minimal information and it may be difficult to select which files to convert.
Download XnConvert of XnView from its webage (linked below).
Webpage: XnConvert