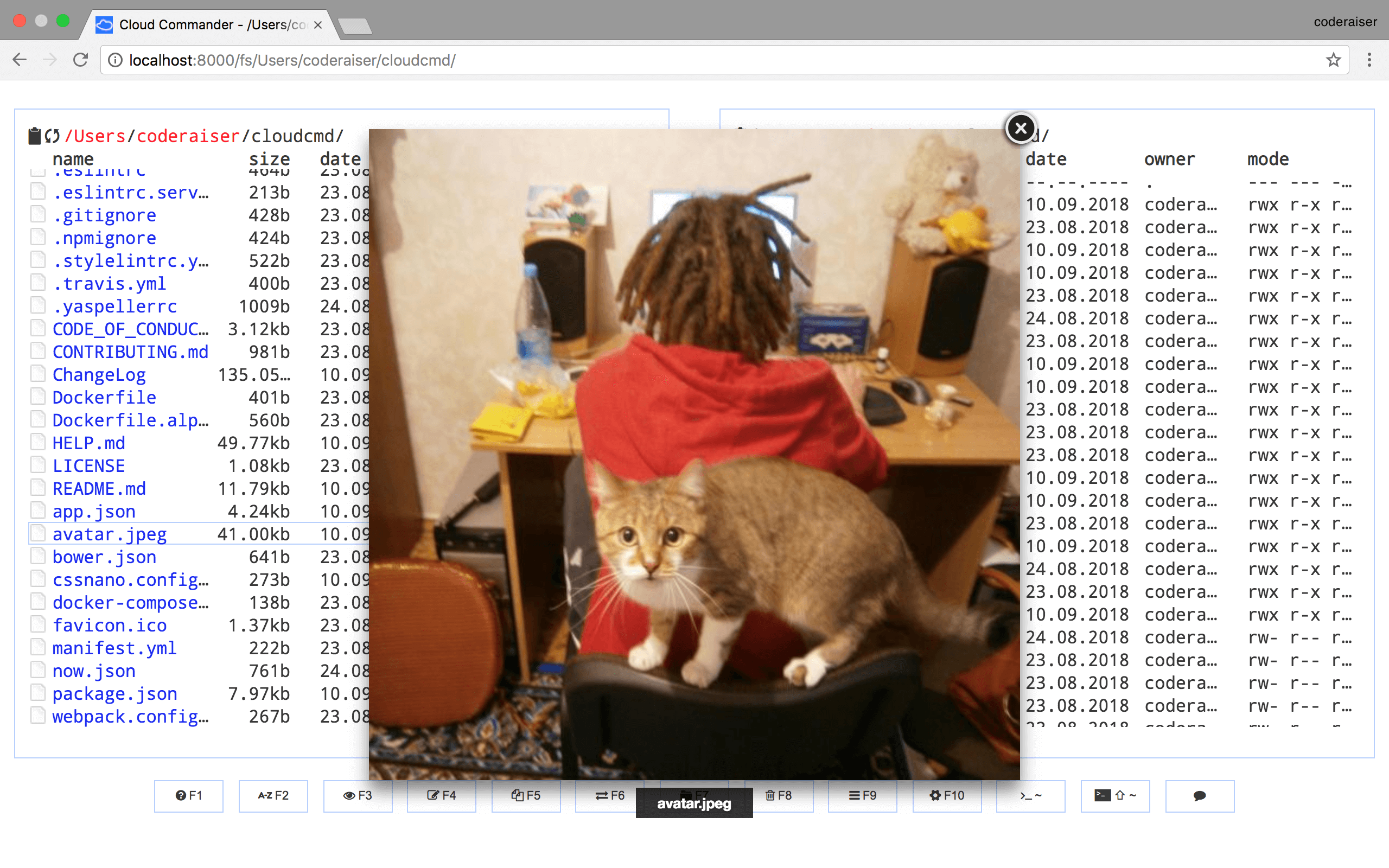 In general accessing remote servers involve the terminal or remote control software. Cloud Commander is a web-based file browser running in the browser. It also comes with a console and an editor and can play multimedia. In addition to servers, Cloud Commander supports tablets and mobile devices too.
Features
Has 2 classic panels
Optional authorization
Client works in web browser
Server works on Windows, Linux and Mac OS
Could be used local or remotely
Adapting to screen size
2 built-in editors with support of syntax highlighting: Dword and Edward
Console with support of default OS command line
Written in JavaScript/Node.js
Open Source (MIT License)
File Manager features: View text files, images, play audio and video. Menu options include view, edit, rename, delete, pack, unpack, upload, upload to (Dropbox, Github, GDrive, FilePicker), download, new (File, Directory, from FilePicker), cut, copy, paste, (un)select all.
Installation
Being a web-software, Cloud Commander needs nods.js or io.js installed. After installing one of these, run:
$ npm i cloudcmd -g
Usage
To start Cloud Commander, run:
$ cloudcmd
Configuration file: ~/.cloudcmd.json
Supported options
-h, --help    : display help and exit
-v, --version : display version and exit
-s, --save    : save configuration
-o, --online  : load scripts from remote servers
-a, --auth    : enable authorization
-u, --username: set username
-p, --password: set password
-c, --config  : configuration file path
--editor      : set editor: "dword" or "edward"
--root        : set root directory
--port        : set port number
--no-auth     : disable authorization
--no-server   : do not start server
--no-online   : load scripts from local server
--minify      : enable minification
--no-minify   : disable minification
By default, Cloud Commander uses port 8000. Port 4430 is used for SSL communication. To access it locally, visit http://localhost:8000.
Webpage: Cloud Commander