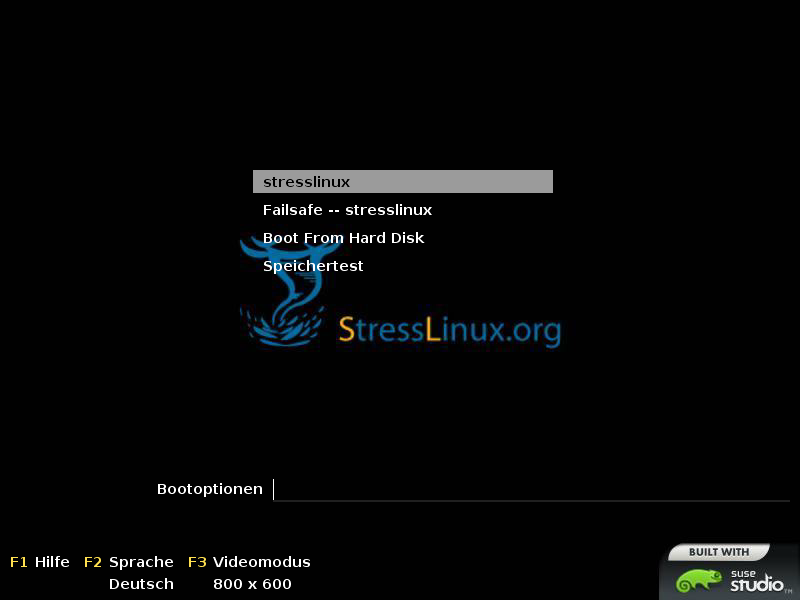 Want to put your system under extreme load and test the performance, stability and thermal conditions? If you are a system builder, overclocker or the die-hard gamer looking for a robust hardware, you might. Stresslinux is a Linux mini-disto to do all kind of hardware load testing.
Stresslinux is built from SUSE Studio build system and is a OpenSUSE variant. It can run from a bootable cdrom, usb, virtual machine or via PXE (wip). It comes with cmdline utilities for system stress testing and does not have a GUI.
The default username and password for Stresslinux is stress. The user is a sudoer. The default root password is stresslinux.
Let's check out some of the tools that come with Stresslinux:
stress

: workload generator for POSIX systems. It imposes a configurable amount of CPU, memory, I/O, and disk stress on the system.

cpuburn

: overclock and test your CPU.

hddtemp

: monitor hard disk temperature.

lm_sensors

: read CPU temperature sensor chip data.

mprime

: overclock and test system stability.

smartmontools

: monitor S.M.A.R.T. attributes and run hard drive self-tests.

memtester

: userspace utility for testing the memory subsystem for faults.

netperf

: network performance benchmarking tool.

ramspeed

: a cache and memory benchmarking tool.

y-cruncher

: scalable multi-threaded Pi-benchmark for multi-core systems.
The distro has versions to be downloaded for burning on both Linux and Windows. The download size is around 200MB.
Webpage: Stresslinux