Markdown and Wiki-style editors are quite popular among web-authors. We wrote about web-based versatile editors like Laverna earlier. This article covers two more fantastic editors for the writer in you.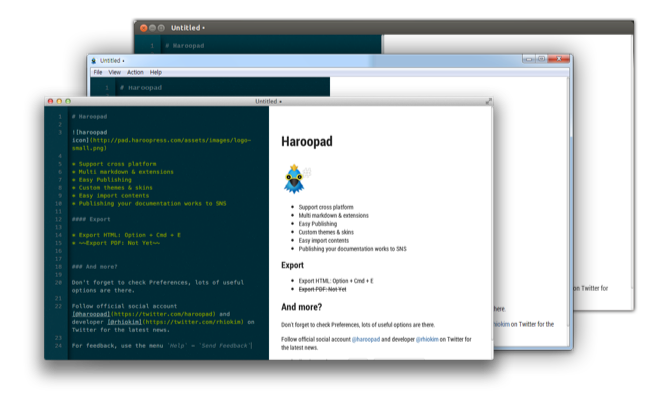 Not just another Markdown editor, Haroopad is tightly coupled with the cloud including smart media integration from 50+ online services. It's still under heavy development and promises many features at the time of writing. Let's take a quick look:
Import content from YouTube, Twitter, Vimeo, Slideshare, Flickr, Instagram, Soundcloud, Wikipedia, Pastebin…
Export documents to WordPress, Tumblr, MediaWiki, EPub, ReStructured Text, RTF (promised). Currently supports HTML and PDF (needs Adobe Reader).
Export to clipboard.
LaTeX mathematical expressions using MathJax.
Supports Markdown (Github Flavour), has ability to build extensions for making custom features.
Supports lots of modern themes in editing area, skins for transformed documents, UI components for interactive experiences and syntax highlighting for various programming languages.
Documents can be transformed into a blog system, WordPress, Evernote and Tumblr. Supports sending documents as email.
Vim-like editing mode.
Supports Linux, Windows and Mac.
Download the package for your system from Haroopad website.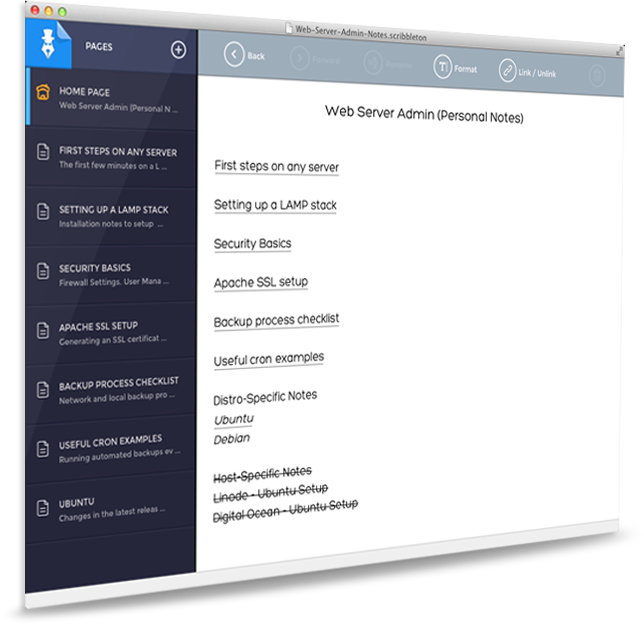 Wiki-style document processor to link among your notes. Features:
Personal wiki. Store everything from quick notes, to detailed checklists for work, to the outline for that next bestseller novel.
Easily create clickable links between words, phrases, and pages to quickly locate cross-reference information.
Export individual pages or entire wikis.
Access and edit your data from any machine on the network using a shared drive.
Local storage only.
Supports Linux, Windows and Mac.
Download the package for your system from Scribbleton website.