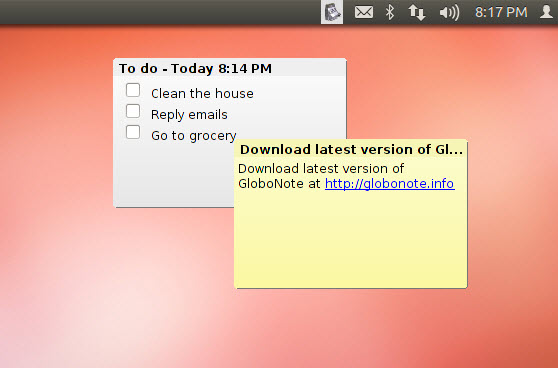 GloboLinux is a slick looking powerful app to handle all your notes. In addition to being a note manager, it is also a sticky notes app with rich text editing capabilities. It lets you attach files and images to the notes. The only drawback I find is that it is written in JAVA but given the number of features t has, I guess people with JAVA already installed defnitely check it out. Features at a glance:
Use as a note manager, sticky notes app to ToDo list manager.
Set Alarms/Reminders. Play custom files.
Smart checklist creation. Create to-do list by inserting checkboxes.
Create link to an app and double click to launch it.
Search Notes even when you are typing. Find and replace.
Built-in Calculator.
Hide/Show/Park note.
Organize notes in group.
Attach files or images. Double click to launch. Auto resize image.
Paste image from Clipboard. Take screenshot and paste it to note.
Restore deleted notes.
Lock note.
Export note as plain text.
Customize the looks of notes.
Note templates.
Move or Resize note.
Always on top.
Roll-up note. Compact roll-up.
Transparency.
URL Detection with launch in browser.
Rich text editing.
Highlight text.
Paragraph alignment.
Platform Independent. Runs on Linux, Windows and Mac.
As the app is written in JAVA, it is platform independent and installation is trivial if you have JAVA.
Webpage: GloboNote
Similar software
Task Coach
Simple open source todo manager to keep track of personal tasks and todo lists. It is designed for composite tasks, and also offers effort tracking, categories, notes and more. To install on Ubuntu, run:

$ sudo add-apt-repository ppa:taskcoach-developers/ppa
$ sudo apt-get update
$ sudo apt-get install taskcoach

indicator stickynotes
Sticky Notes indicator icon that sits in the system tray and lets you handle multiple sticky notes on your desktop. To install on Ubuntu, run:

$ sudo add-apt-repository ppa:umang/indicator-stickynotes
$ sudo apt-get update
$ sudo apt-get install indicator-stickynotes