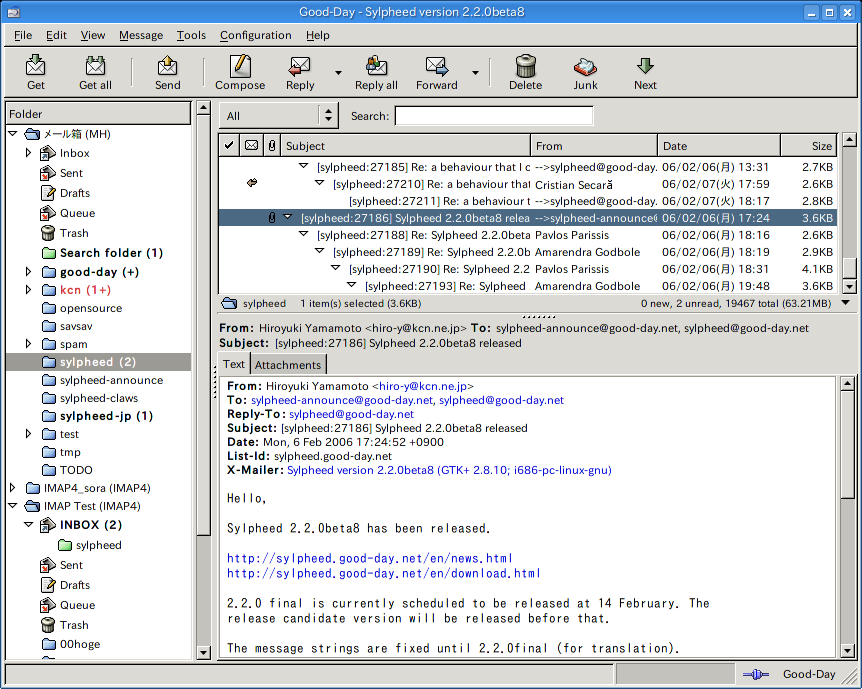 Looking for a Gmail desktop client? Try Sylpheed!
Sylpheed has just got a newer version (3.4.2) today and we thought it's a good time to write about this email client. Sylpheed is a multiplatform light and powerful email client with much lesser bells and whistles than thunderbird or evolution. However, it integrates on any platform seamlessly and does one job well: being a reliable desktop email client. You can easily setup Sylpheed to work as your Gmail client (or any modern email service that supports POP3 or IMAP protocols).
Features
Simple and beautiful with a clean interface.
Supports POP3, IMAP4rev1 and SMTP, but also NNTP (NetNews). IPv6 by default.
Quick launch integration and desktop notifications on new email.
Lots of configuration options which are also easy to understand.
Implemented in C and delivers good performance. Can read a folder with 20/30K messages without much stress.
Powerful search and filtering.
Learning-type junk email control feature which utilizes external commands. Automatically filter junk emails without setting filter rules by hand.
Optionally supports the signing and encryption of messages by GnuPG, and the encrypted communication of POP3/IMAP4/NNTP over SSL/TLSv1.
Supports plain-text attachments instead of base64.
Call external commands and cooperate with them in various circumstances.
Multiplatform. Works on Linux, Windows and OSX.
Open source and free.
Installation
To install Sylpheed on Ubuntu, run:
$ sudo add-apt-repository ppa:klaus-vormweg/sylpheed
$ sudo apt-get update
$ sudo apt-get install sylpheed
Sylpheed has a capable fork too – Claws Mail, which you can try out for variety.
Webpage: Sylpheed