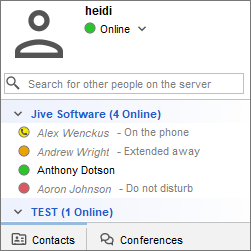 If you want to setup your own Instant Messaging server for home network or organization Openfire is an excellent option. It uses the popular open protocol XMPP and is written in Java. The client application is Spark. Openfire also supports the openfire-jappix plugin for in-browser audio-video conferencing using WebRTC. Features:
Multiplatform (Linux, Windows, Mac)
Easy to setup and administer users and settings
Industry standard security and performance
Group chat
Telephony integration
Audio-video support using openfire-jappix
Drag and drop file transfer with progress bar
Chatlogs
Spell checks
and many more features available in standard IM servers and clients
To try it out check the installation guide for Openfire.
Webpage: Openfire, Spark, openfire-jappix